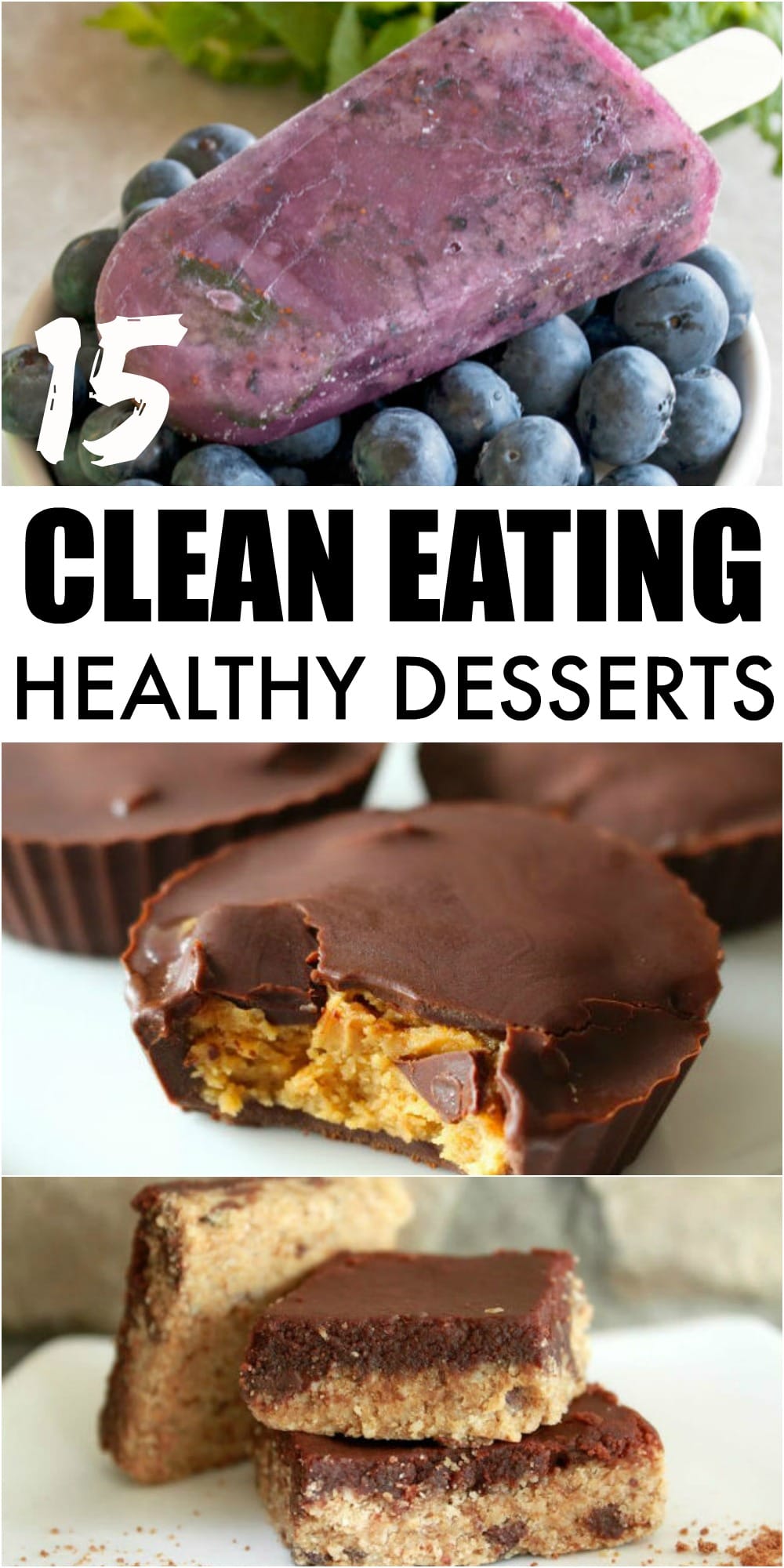 In the past few weeks, I've posted several clean eating recipes and round ups to help you get started on your clean eating journey.
But you may have noticed that there was something lacking.
Desserts.
I can't believe I have let it go so long without a post on my favorite part of the day!
When I first got started on clean eating, I remember getting on track with meals fairly quickly, but so many times after dinner I would find myself back in the kitchen, snacking on an unhealthy dessert minutes later.
That just won't cut it.
And I wasn't about to cut desserts out of my life. Instead, I decided to find ways to make clean eating, healthy and low sugar desserts.
Of course, that's actually a lot more difficult than it sounds. Although finding healthy snacks and desserts is not too much of a challenge in and of itself, finding ones that taste good and were not overly complicated and/or time-consuming…. that's a whole other ball game.
Over time, I was able to figure out what worked for me and what didn't and found a whole bunch of tasty recipes. Of course, feel free to experiment and substitute to make these treats more to your liking.
If you are one of those currently struggling with clean eating dessert recipes like I once did, then this post is for you. I have rounded up a list of healthy clean eating desserts that call for little to no sugar.
Whole Wheat Strawberry Banana Protein Muffins
Aren't you just itching to sink your teeth into this fluffy sugar-free strawberry muffin? Made with lots of real fruit (bananas! strawberries!), these muffins are good enough to have you coming back time and time again. In our house we love them as an after school snack.
Flourless Chocolate Chip Chickpea Blondies with Sea Salt
Vegan, gluten free, dense and absolute blondie perfection. You'd never guess that these babies are both low in sugar and actually good for you (thanks to their protein and fiber rich ingredients like peanut butter and chickpeas).  Next on my list- switch it up from maple syrup to honey and see how they are then; can't wait to share the results with you.
Superfood Banana Pops
How do you take a banana from ordinary to amazing? Stick it in the freezer. A frozen banana is absolute magic. And then you dip it in chocolate and cover it with super healthy super foods like cacao nibs and goji berries and these everyday fruits are magically gourmet treats. Next time you or the kids are craving some ice cream, remember this guilt-free frozen banana dessert.
Double Chocolate Mint Smoothie
This one tastes like a dessert but has protein like a boss. How about a flavourful, clean eating 5- minute minty shake with a protein content of 30g, a fat content of 3.5g and a fiber content of 6g per serving? Genius right? I thought so too.
Sugar-Free Lemon Pie
It's so easy to fall in love with this fresh and tangy lemon tart. Lemons are usually available all year round so you shouldn't have any problems picking up a couple for this awesome recipe.
Brookies(Gluten-Free, Vegan Free, Dairy-Free, Refined Sugar-Free)
If your first thought was "what the heck is a brookie?" you and I were on the same page! Turns out these little bites of heaven are the best of all dessert worlds: brownie + cookie = brookie! And your life will never be the same. They were a delight to make and the recipe is so healthy and versatile (there are plenty of other versions- including a nut-free version if you like).
Chocolate Covered Banana Split Bites
These dessert bites will curb a craving for sweets and the kids will enjoy helping build these fun size banana splits.
Raw Oatmeal Cookie Energy Bites
Because cookies= life. And since these ones are made with oatmeal, they're great at curbing hunger (thanks fiber!). Oatmeal also stabilizes your blood sugar and helps reduce the risk of Type 2 diabetes. So yes, you can have your cake… err, cookie dough… and eat it too!
Chocolate Peanut Protein Cups
Thought eating clean meant no more peanut butter cups? Guess again! This chocolatey peanut butter cup is magic and will have you breaking up with Reese's for good.
Blueberry Mint Coconut Water Paleo Popsicles
Perfect for summer, these popsicles are made with all the best summer flavors- fresh blueberries, mint and coconut- and they take less than 10 minutes to put together. The hardest part is waiting for them to freeze.
No-Bake Almond Butter Apricot Bites
Can't be bothered with an oven? No problem. This no-bake Almond Butter Apricot cookie is everything. All you need is a food processor and you're good to go.
Clean Eating Almond Butter Fudge
Four ingredients and a spoon. That's all it takes to whip up this super creamy, shockingly delicious almond fudge. But don't take my word for it. Try this amazing recipe for yourself.
Healthy Carrot Cake Cupcakes
If it's got carrots in it then you already know it's going to be a hit but this recipe goes above and beyond. It's got all the good stuff like whole wheat flour, nonfat Greek yogurt, maple syrup and almond milk. It's even got a sneaky little trick for frosting that will blow you away. Yum! Yum!!
Paleo Pumpkin Mug Cake
This recipe had me at dark chocolate so the fact that it takes less than 5 minutes to make this single serve, paleo friendly and secretly nutritious mug cake is just icing on the cake (or, dark chocolate on the cake, if you will. I know I certainly will).
Chocolate Crunch Bars Vegan
Just because you have committed to a clean eating lifestyle doesn't mean you can't have your favorite candy bar.. if that candy bar is a crunch bar. It just means making them yourself and with this easy-peasy crunch bar recipe you can be enjoying a healthier, crunchy chocolate bar in no time.