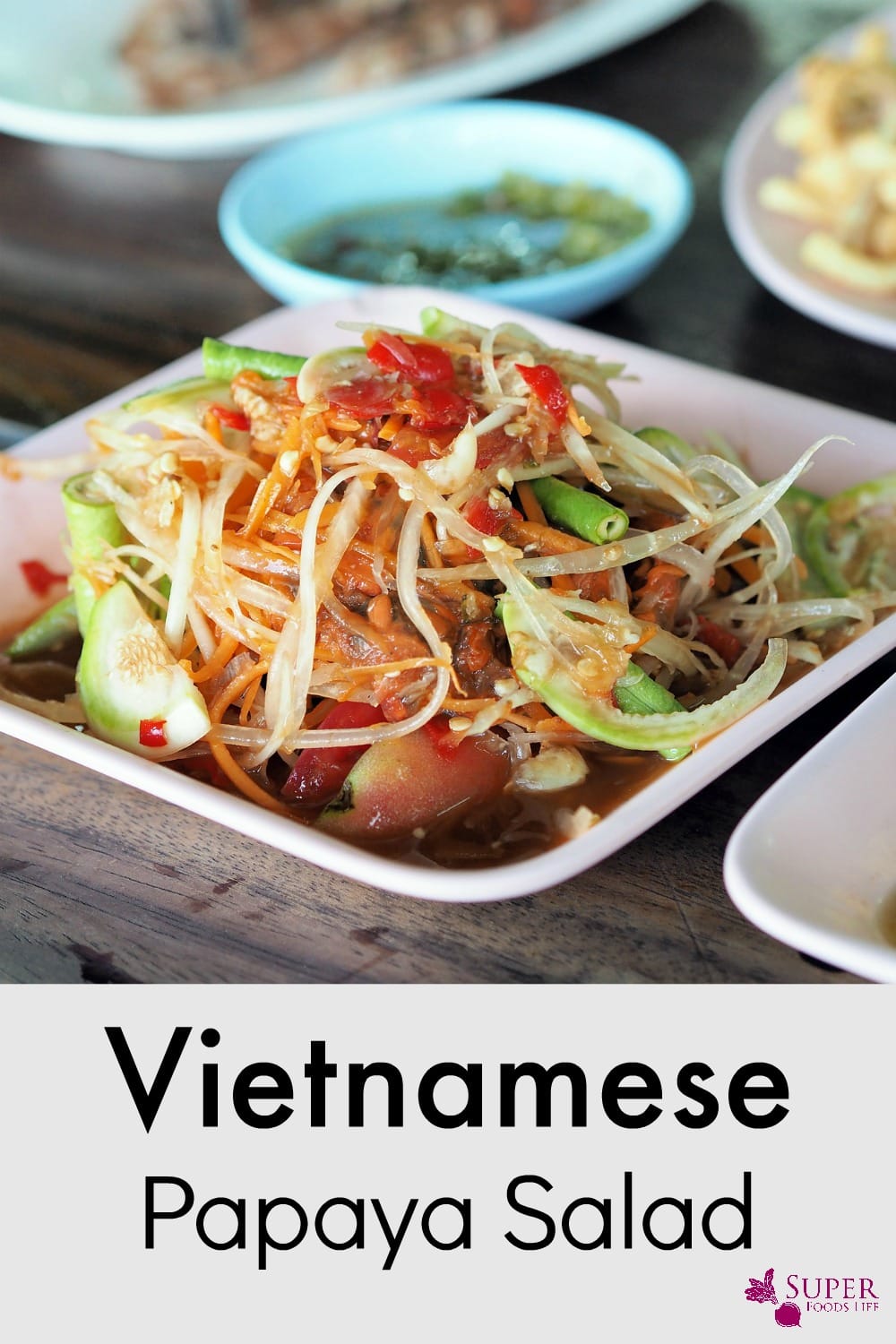 If I had to pick my favorite food from this trip, papaya salad would probably be it.
(I am just saying IF. Please don't actually make me choose!). I have loved all the different variations- from the wicked spicy version in Thailand that sets my mouth on fire just thinking about it, to the sweeter, tamer version in Cambdia. And Vietnam put their own sweet/spicy twist on it as well- this recipe is based on one we had at cooking class with Chef Tan while we were in Ho Chi Minh City.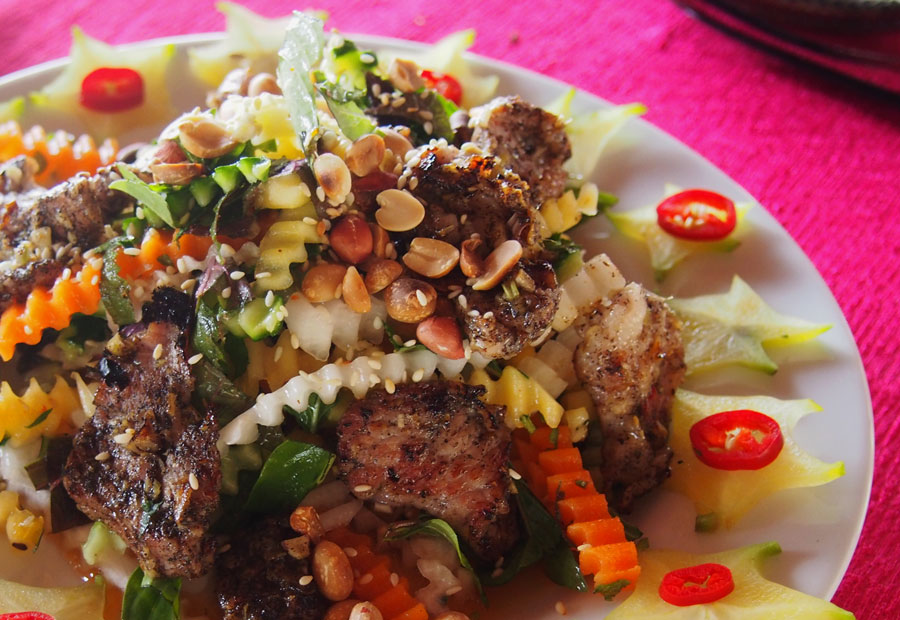 It looks kinda scary and has a long looking ingredient list, but it actually comes together very quickly and the ingredient list is not all that long, a lot of things (like garlic) appear multiple times throughout the recipe, in all three sections. If you can't get your hands on a green papaya use a cucumber, a green mango, or or even a cantaloupe! Or get totally crazy and use all three.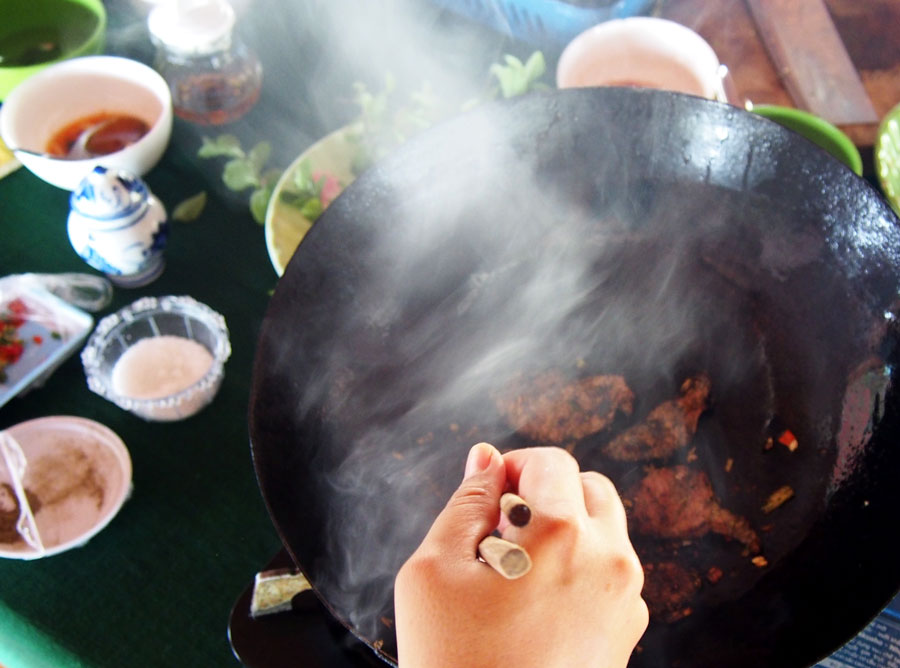 Vietnamese Papaya Salad with Grilled Pork
Serves 4
Ingredients:
For the Sweet n' Sour Kumquat Dressing:
1 Tbsp Kumquat Juice (If you cannot find kumquats, use a mix of 80% lime and 20% orange juice)
1 Tbsp Sugar
1 Tbsp Fish Sauce
1 tsp Minced Garlic
1 tsp Minced Red Chili (Medium Spicy)
For The Salad:
10 oz, or about 2 cups Green Papaya, julienned
1 large Onion, thinly sliced
1 Carrot, julienned
Handful of Vietnamese Basil, thinly sliced
2 Tbsp Fried Garlic
2 oz Fried Shallot (To make your own fried garlic and shallots, thinly slice and fry in peanut oil until light brown. Remove and drain on a paper towel)
¼ cup Crushed Peanuts or Cashews
For The BBQ Pork
1 Tbsp Lemongrass, very thinly sliced and minced
1 tsp Sugar
2 tsp Fish Sauce
1 tsp Oyster Sauce
1 tsp Black Pepper
1 tsp Minced Chili
1 tsp Minced Garlic
1 Pinch Five Spice Powder (cinnamon, cloves, coriander, pepper and cardamom)
1 Tbsp Oil
8 oz Pork, thinly sliced (note: it is easier to thinly slice meat when it is slightly frozen. Freeze for 1 hour before slicing)
Method:
For Dressing:
Whisk together all ingredients until sugar is completely dissolved. Adjust flavors as needed
For Salad:
Combine papaya, onions, carrots and basil, mix well. When pork is grilled and you are ready to serve the salad, gently toss the salad with the dressing, ensuring it is evenly coated. Sprinkle with nuts and fried shallots and garlic. Add grilled pork and serve immediately.
For Pork:
Combine all ingredients and toss well with pork. Allow pork to marinate at least 15 minutes. Grill over high heat (or sear in a hot wok) until cooked through. If pork has been sliced very thin, this should only take about 3 minutes per side. Serve on top of dressed salad. Chicken, beef or shrimp would also work well in this recipe).