New to Clean Eating?
Get started with our free mini course! The course contains sample recipes, tips and all of the practical info you need to get started.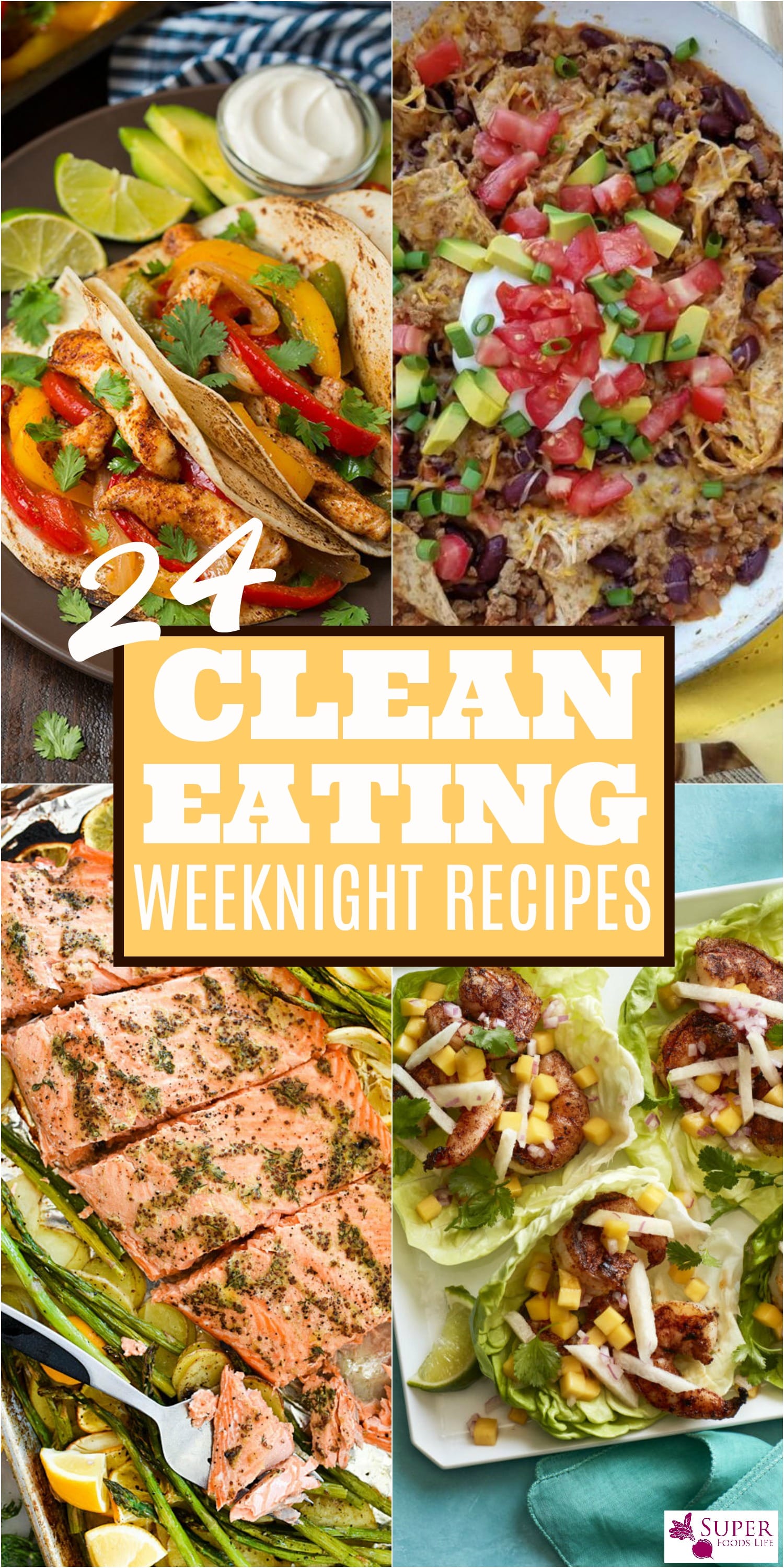 Weeknight meals often need to be fast. When I need to quickly cook dinner for my family, I turn to my Instant Pot. If you don't have one, you're missing out! Learn everything you need to know with our Instant Pot Guide.
You know the saying- home is where the heart is, but, wouldn't it be better if home was where dinner is already prepared?  Some days I feel like I have to hustle my way through chores while doubling as a "kids mediator", "ball retriever" and "homework assistant" and still figure out dinner. Don't get me wrong I love my kids and I love every minute I get to spend with them. As a matter of fact, that's the sole purpose of this post.
It's important to me to think of ways to shorten my chore times so I can carve out a few extra quality hours for the kids; I feel like if I blink for a second, I miss out on something. The focus, for now, has been on discovering ways I can save on meal times- like the post on 11 clean eating crock pot recipes.
That worked so well for me, but I realize not everyone has a crockpot or may have remembered to put on a meal to cook before leaving for work. So I've explored other cooking methods and recipes and I'm so excited to share them with you. Tell me what you think about the roundup by leaving a comment below. Bon appetit!
Layered Quinoa Fiesta Salad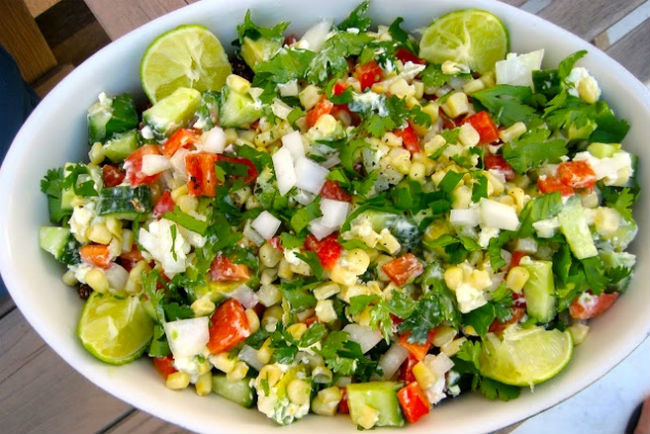 Get the recipe from Weeknight Bite
How about a light, flavorful and colorful salad to get the night started? This fiber-rich dish has also got a decent amount of protein as well and won't leave you feeling heavy before hitting the sack.
Cuban Pineapple & Avocado Salad
Get the Recipe from Eating Well
Yes, I had to add another salad and you guys already know how much I love avocados but I also love how this recipe brings in a little bit of tropical flavor courtesy of the sweet tasting pineapple.
Weeknight Burrito Skillet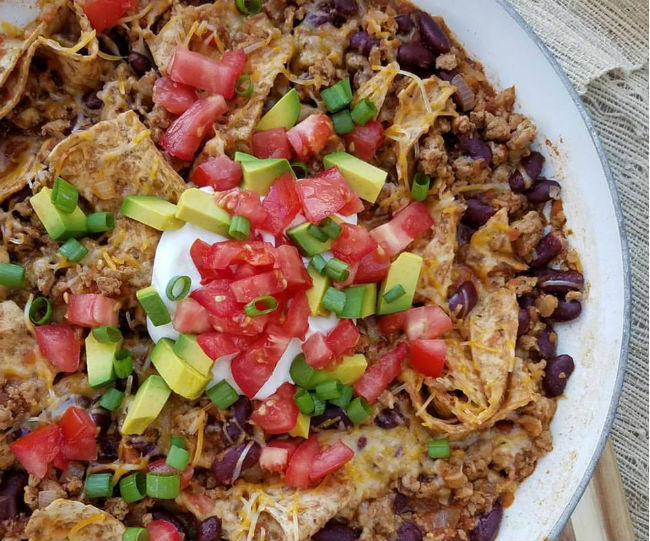 Get the recipe from Clean Food Crush 
Dpn't let the long ingredeint list fool you, this recipe comes together quickly- we're talking 15 minutes. If you're in search of a quick dinner, this should be at the top of your list.
Clean Eating Minestrone Soup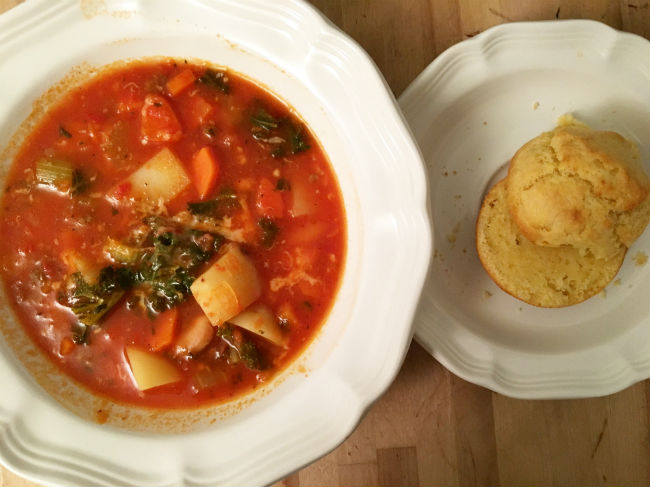 Get the recipe from Abs in Progress
Snag this quick and easy re-heatable soup recipe; It's packed full of flavors and nutrients, and shouldn't take you more than 30 minutes to cook.
Tomato Baked Chicken with Baby Potatoes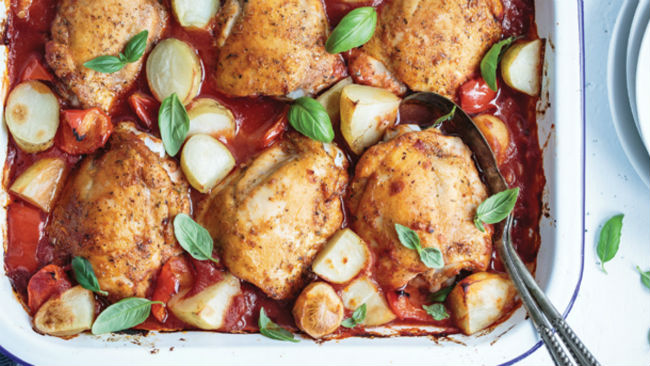 Get the recipe from Clean Eating Mag 
My kids looove chicken and I was beginning to run out of creative ways to make it until I found this recipe. What's more, it's a one-pot dish!
Sheet Pan Chicken Fajitas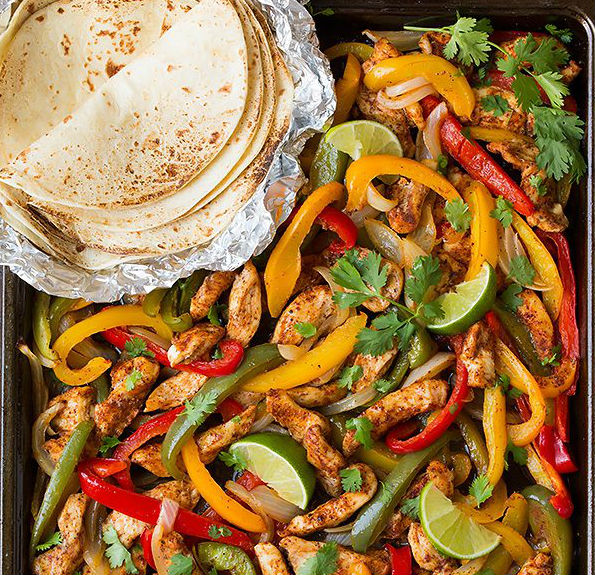 Get the recipe from Cooking Classy
These sheet pan chicken fajitas are super flavorful, and just look at all those colors! Also, being a one-pot (ummm, one-sheetpan?) meal, cleanup becomes a lot easier.
Pan Seared Salmon with Kale and Apple Salad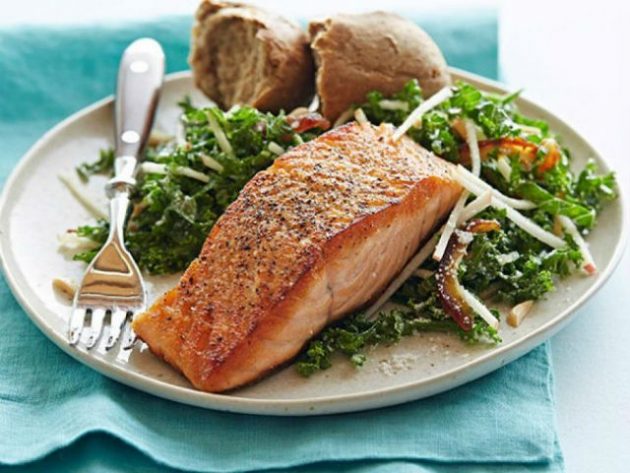 Get the recipe from Food Network 
Kale is still having it's moment and continues to top the list of world's healthiest foods. Combine my favorite green with omega 3 and protein-rich salmon, and you've got one of the healthiest dinners you can cook in 20 minutes.
Crispy Sausages and Greens
Get the recipe from Bon Appetit
This meal is clean, filling, not time-consuming and does not come with a recipe per say; just a couple of instructions that make you feel like Martha Stewart at the end of it all.
Curried Lentils with Tomatoes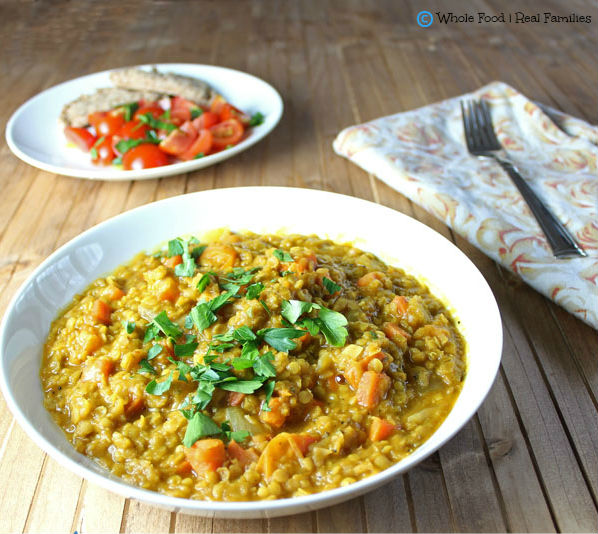 Get the recipe from My Nourished Home
Here's a great tasting, Indian-inspired meal that your family would easily fall in love with. It's healthy,vegetarian-friendly and has a total cook time of just 20 minutes.
Chicken and Sweet Potato Curry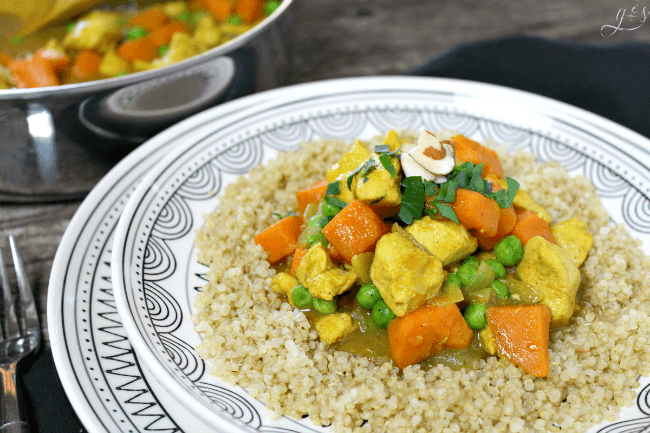 Get the recipe from Grounded and Surrounded 
This not too hot curry dish is made with chicken and plenty of veggies. And it's a serious timesaver, coming in at only 7 ingredients; you really can't go wrong with it.
Roast Chicken with Spring Vegetables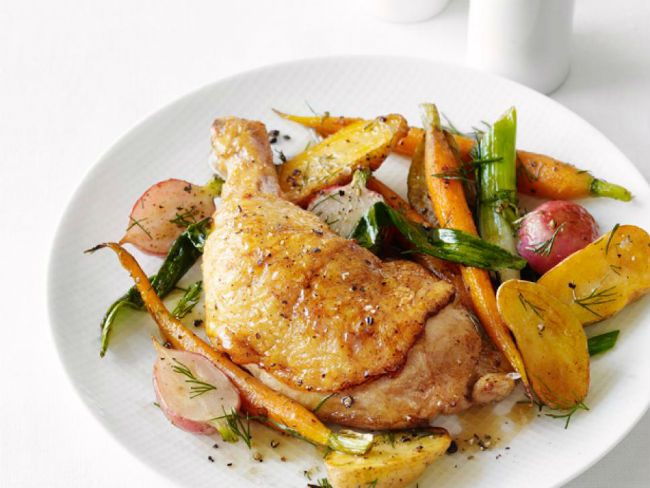 Get the recipe from Food Network 
This classic recipe combines roast chicken and some of spring's most delicious and tender veggies. But, it's easily adaptable to whatever tasty veggies you've got on hand!
Mustard Salmon Sheet-Pan Dinner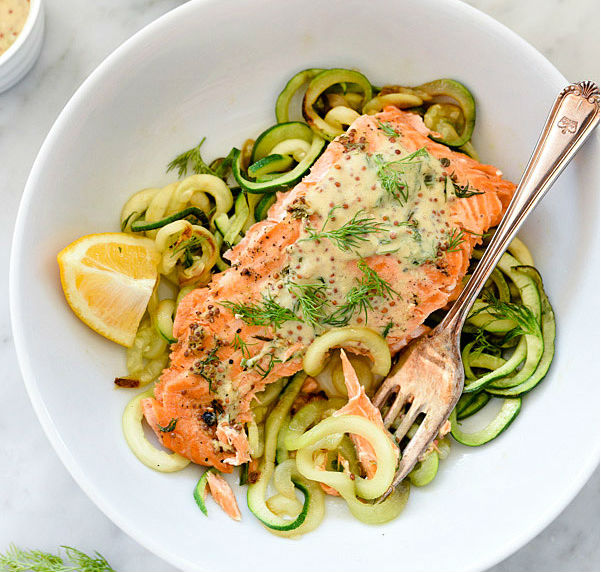 Get the recipe from Foodie Crush 
Salmon is so good for you, but it can be a bit intimidating to cook. Check out this simple recipe and take out all the guess work with this beautiful and oh so tasty dish. Give it a shot today- you'll be glad you did!
Tuna-Tomato Salad with Couscous
Get the recipe from Bon Appetit
This recipe is a great way to change up your salad game. Got 20 minutes? This is the recipes for you! It's healthy and you can easily switch up the vegetables with what you've already got in the fridge.
Simple and Scrumptious Vegetable-Packed Panini Recipe
Get the recipe from Clean Eats Fast Feets
I don't even think a caption is necessary for this healthy no-cook, 15-minute dinner recipe.  Those gorgeous veggies speak for themselves.
Skillet Chicken with Orzo and Olives
Get the recipe from Budget Bytes
Healthy, fast and under $10. And those flavors- salty, savory and perfect. This may be your new go to!
Jerk Shrimp Wraps with Mango Slaw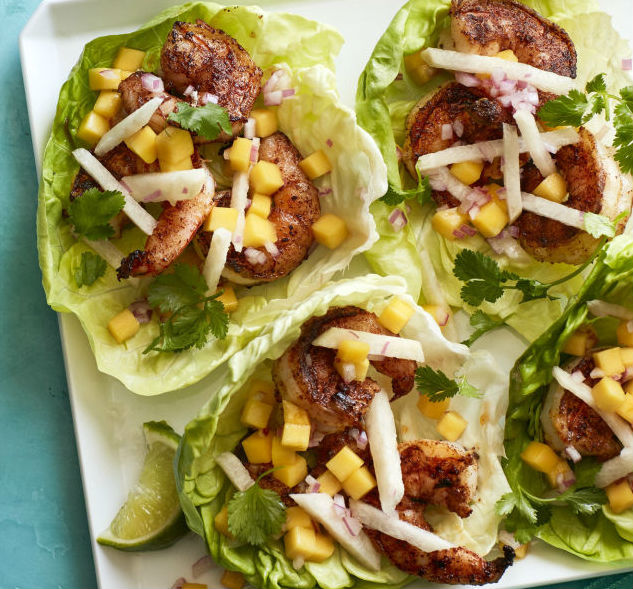 Get the recipe from WomansDay
It's light, it's bright, doesn't take time and it tastes just right – this recipe is perfect for hot summer days or anytime you can't stand the idea of spending time hunched over your stove.
Slow Cooker Green Chile Pork Tacos
Get the recipe from A Sweetpea Chef
Even though the instructions say the cook time is between 6-8 hours, these tender pork tacos made the list because only about 10 minutes is actual "hands-on" time. You just throw in all the ingredients before you leave for work, set on low and come home to delicious green chile pork ready to be tossed into a corn tortilla and called dinner.
Shredded Collard Greens and Baked Sweet Potato Salad
Get the recipe from The Design Files 
I love uncomplicated dishes, if I have to follow more than 6 steps, it becomes stressful for me and I sort of lose interest along the way. If you're like me, then you might want to stick to clean eating recipes like these. They make your life a lot easier.
Roasted Sweet Potato Kale Salad with Apples and Blue Cheese
Get the recipe from Creative Life Explored 
Apples, roasted potatoes, and kale…what's not to love?  Elevate your salads with this simple but scrumptious recipe that has a prep time of just 10 minutes. Then you'll get a few minutes to yourself while the potatoes roast in the oven for 20 minutes.
Spaghetti Squash Pad Thai
Get the recipe from My Fitness Pal 
Here's a secret: don't have a spaghetti squash on hand? No worries- take a spiralizer to a zucchini or summer squash. The flavor might come out a bit different but you still have yourself one healthy meal for dinner.
Spicy Hoisin Glazed Eggplant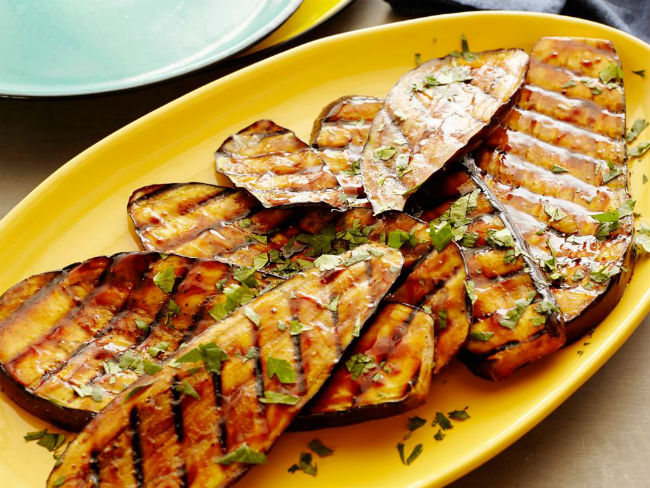 Get the recipe from Cooking Channel TV
Here's what you need to know about eggplants – they are rich in fiber, awesome for the heart and contain a decent amount of vitamins and minerals. So if you are looking for a light meal that tastes good and packs some health benefits, then you should give this recipe a try.
Spinach and Tortellini
Get the recipe from Cooking Channel TV
Another simple, but beautiful dish that comes together in minutes and makes you look like a pro! Head to an Italian deli to get fresh house made tortillini to make this recipe truly clean eating (or read the packaging).
Smoky Tilapia Tacos
Get the recipe from Prevention Rd
You'd be amazed at how fast you can make this delicious meal. To make this meal a little more kid-friendly, skip the cayenne pepper and you'll have a clean eating meal that the whole family will enjoy.
Fast and Easy Pasta with Blistered Cherry Tomato Sauce
Get the recipe from Serious Eats
Cherry tomatoes are always a great addition to dinner with their juicy, sweet flavor and bright pop of color. They are also a good source of antioxidants, especially the antioxidant lycopene.