How many times have you opened a CSA box only to be completely stymied by what was inside?
Or found a gorgeous new veggie at the Farmer's Market to try when you get home, only to realize you have no idea what to do with it?
I've been there.
We've all heard that we need to eat more vegetables, but if you don't know what to do with them, it can be a challenge.
Fortunately, this infographic can help!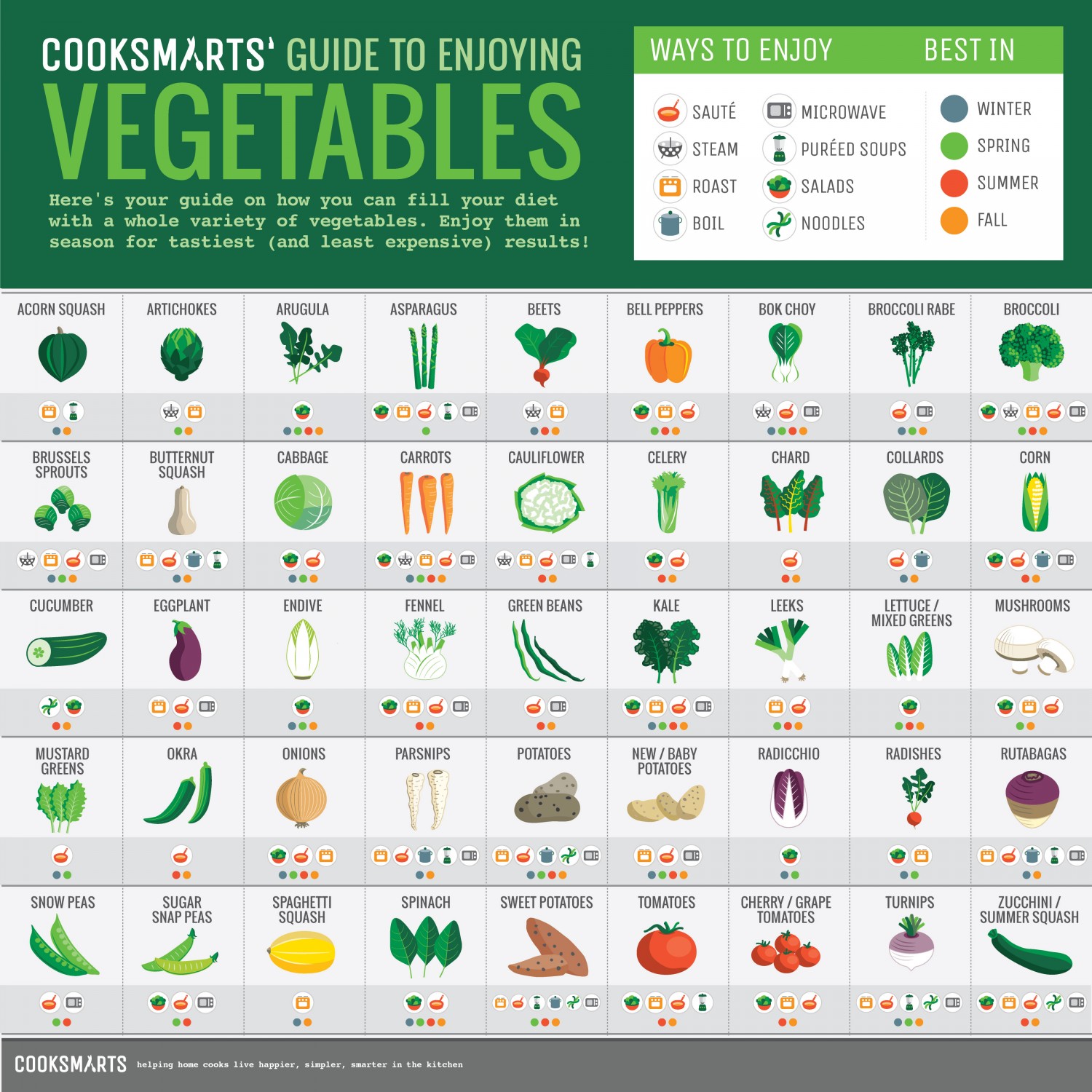 From Visual.ly
A few thoughts: I think this infographic is a great place to start.
I love the seasonality aspect of it.
But I do think they missed a few things.
For example, I think beets and parsnips make excellent noodles. And collard greens are great raw or lightly steamed and used as sandwich wraps.
However, this is a great start and a good way to get the creative juices flowing and start working on upping your vegetable intake.
Here is a little reminder on why you should be eating more veggies:
People who eat the most fruits and vegetables are less likely to have a heart attack. They also have lower blood pressure and thus lower risk of stroke and cardiovascular disease
Higher intakes of vegetables is associated with improved blood sugar control and lower risk of developing type 2 diabetes. This is likely due to their combination of fiber and magnesium.
The higher your veggie intake, the lower your risk of many cancers including stomach, colon, esophagus and lung cancers.

Women who eat more fruit reduce their risk of lung cancer and bladder cancer.
Men with the highest intake of cruciferous vegetables (broccoli, kale, cauliflower, cabbage and other leafy greens) have a reduced risk of bladder cancer. Cruciferous vegetables and tomato products help reduce the risk of prostate cancer.

When more veggies are introduced into the diet, the risk of many other diseases falls as well- from osteoporosis, cataracts and macular degeneration to Alzheimer's disease and Parkinson's disease.
Adding more veggies (and fruits) can help keep you healthy for a lifetime. Plus, if you're into meal prepping, the more veggies you're comfortable with the easier it will be to change up your recipes!
The unique combination of vitamins and minerals including vitamin C, folate, potassium, fiber and phytochemicals may contribute to the cardioprotective effects of fruit and vegetables.
Interestingly, taking these individually as supplements or vitamins does not have the same protective effect. When it comes to fruits and vegetables the protective effect of the whole may be greater than the sum of its parts.
If you're going vegan or vegetarian and looking for some help transitioning then check out our vegan and vegetarian counseling packages.