5
Grilled Veggie Tacos with Marinated Feta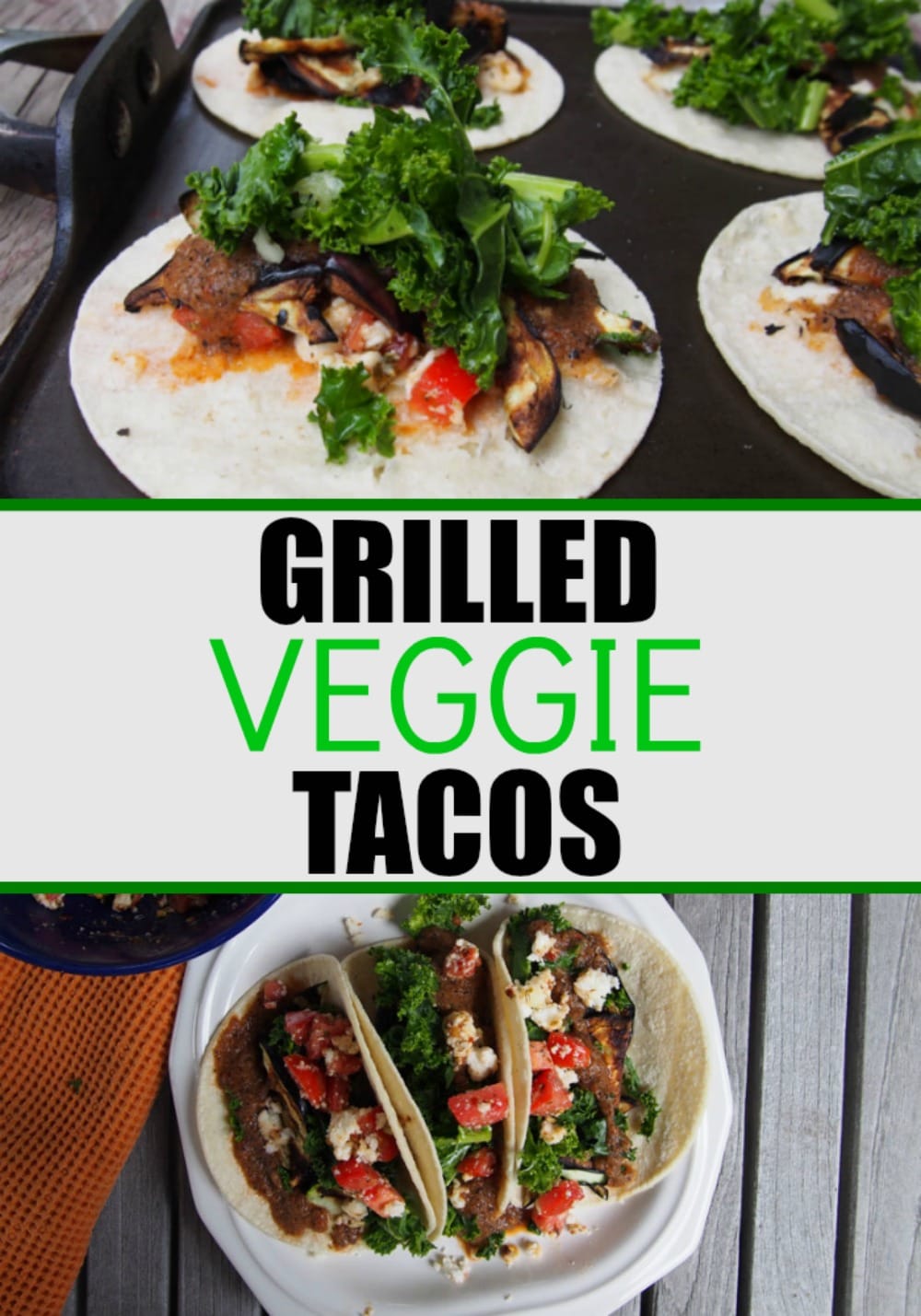 Summer is just around the corner! That means baseball games, cookouts and celebrating the amazing bounty of the season at the Farmer's Market! I really, really, really love the Farmer's Market- I mean, really love them. I love the joy of finding the perfect, sexy chard or chatting with a farmer and picking up tips on a new way to cook okra.
My life was forever changed one Sunday morning when I was purchasing tomatoes at the Farmer's Market in Kansas City. The lady selling the tomatoes asked if we had ever tried a Purple Cherokee heirloom tomato.
When we said no, she tossed one (well, placed it gently) into our bag of tomatoes at no extra charge. That Purple Cherokee was hands down the best tomato I have ever had- I had not, up until that moment, been the kind of person who could eat tomatoes plain.
One bite of that juicy, purple tomato and I was hooked. That's what I love about Farmer's Markets- you never know what amazing treasure you will uncover. Plus, if we are being honest (and this is a safe place, a place of honesty), the market is seriously good people watching.
Looking for a market in your area? Check out the USDA's website. This is a great resource to find markets for farmers to sell direct.
Why visit the Farmer's Market?
The produce is fresher. Fresher means more nutrients and a better taste. It is also picked at the peak of ripeness, when the flavor is at its very best, instead of picked green and shipped across the country.
You are reducing your carbon footprint- locally produced food doesn't travel as far. This means it is not flying on a gas guzzling plane or driving long distances on trucks.
It's a great chance to chat with the experts. Have a question about what to do with a new veggie? Ask, and chances are you will learn more than you bargained for.
Supporting your local farms supports your community.
It's a great way to stretch your food dollars- buying local produce in season is the most affordable way to purchase it. Not to mention, you are cutting out the middle man and going direct to the source- the farmer gets more money and you pay less. Win and win.
With all that epic Farmer's Market knowledge, here is a super easy and incredibly tasty option for cooking all those farm fresh veggies you just picked up:

Grilled Veggie Tacos with Marinated Feta
Serves:
4 (at 3 tacos each)
Grilled Zucchini and Eggplant topped with marinated feta and tomatoes, roasted pepper coulis and zesty, garlicky kale and then all wrapped in warm corn tortillas. Hearty, filling and full of summer-time goodness, these are perfect for vegetarians and meat lovers alike 🙂
Ingredients
1 Bunch Kale, washed and roughly chopped
1 clove Garlic, peeled and minced
1 Tbsp Lemon Juice
3 Tbsp Olive Oil, separated
1 Medium Eggplant, washed and sliced width-wise to about ¼" thick
1 Medium Zucchini, washed and sliced along the bias to ¼" thick
⅓ cup Feta cheese, crumbled
½ cup Cherry Tomatoes, quartered
½ tsp Oregano
½ tsp Red Pepper Flakes
½ tsp Basil
Pinch Thyme
Corn Tortillas
Instructions
Preheat grill to medium high heat.
Brush 1 Tbsp Olive Oil over eggplant and zucchini slices. Sprinkle with a pinch of salt and pepper.
In a large bowl, combine kale, 1 Tbsp olive oil, lemon juice and minced garlic. Toss with your hands until kale is well coated.
In a medium bowl, combine remaining 1 Tbsp olive oil, crumbled feta, cherry tomatoes, oregano, red pepper flakes, basil and thyme. Mix well, but very gently.
Grill eggplant and zucchini until soft and beginning to char, about 3-5 minutes per side.
Meanwhile, heat corn tortillas, either over the grill or on a non-stick pan on the stove over medium heat. Heat just until soft and warm, about 1 minute per side.
Remove the eggplant and zucchini from the grill and slice into thin strips. Place on corn tortillas, top with garlicky kale, marinated feta and roasted pepper coulis.