New to Meal Prepping?
Grab a copy of our FREE Meal Prep Planner to help you get started!
If you frequent this blog (and you definitely should, *wink*), you have probably seen some of the amazing clean eating recipe compilations we've done, they include clean eating chicken recipes, clean eating crockpot recipes and clean eating recipes for meal prepping- just to name a few.
Because everyone has different needs, wants and tastes, I try as much as I can to ensure that everyone can find recipes and advice that fits their needs. That's why the focus of this post today is gluten-free clean eating.
Going gluten-free simply means skipping out on foods that contain the protein gluten. Gluten is mostly found in rye, barley, and wheat. People who suffer from celiac disease, an autoimmune disorder of the body, are sensitive to gluten. Symptoms include bone and joint pain, persistent hunger, diarrhea, just to mention a few.
The only way for those with celiac disease to heal their gut from the damage caused by gluten is to completely remove it from their diet. Fortunately, many foods are naturally gluten free including fruits and vegetables, many whole grains, beans, seeds, and most dairy products.
It is with that in mind that I have compiled this list, please make sure you double check the recipe before you proceed to try them out. Bon appetit!
No-Grill Grilled Chicken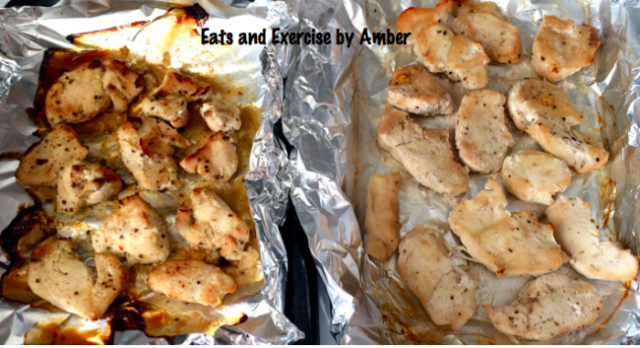 This 5 ingredient no-grill chicken recipe is incredibly simple to make plus you're left with fewer dishes to wash. You can make a batch of these during the weekend and just portion them out during the week.
Honey Bbq Baked Salmon Bowls
These salmon bowls can be made in 30 minutes or less and will store quite well in the fridge throughout the week.
Shrimp Vegetable Skillet
There are all kinds of goodness going on with this dish, it's packed full of healthy veggies and shrimp and is so flavorful you'll want to have it every day of the week. Good news- it only takes 30 minutes so you absolutely can!
Southwest Tofu Scramble
This light, savory gluten-free dish will blow you away! It provides the body with a healthy amount of protein and is easy to customize.
Zucchini Noodles Stir-Fry with Hoisin Asian Pork Tenderloin
Stir-fry dishes are such an easy go-to recipe, but that doesn't mean they can't be elegant and tasty- case in point is this low-carb gluten-free option.
Chicken Burrito Bowl
This is a great recipe to try out if you are new to meal prepping and are looking for gluten-free ideas. It doesn't take long to make plus it's packed with tons of the essential nutrients that your body needs.
Chicken Fajita Lunch Bowls
I love how colorful this bowl is, like a perfect bowl of sunshine. That it's gluten-free makes it even better.
Grilled Chicken Veggie Bowls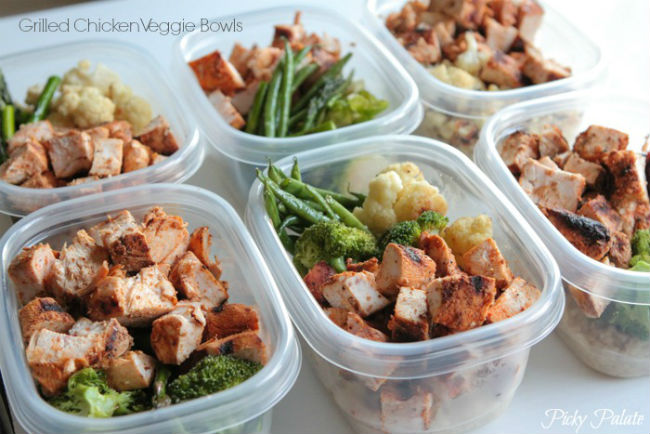 This recipe makes 8 bowls so you've got an extra one for when you have a friend over. Feel free to replace the vegetables with your favorite ones.
Better Than Chipotle DIY Chicken Burrito Bowls
Get your week off to a great start by nourishing your body with this nutritious DIY burrito bowl. The dish is simply fabulous and will spice up your weeknight routine!
Vegetarian Crustless Quiche
This basic recipe is anything but basic. It's loaded with healthy vegetables and made without the flour crust; making it gluten-free and much lighter and healthier.
Curried Tuna Salad With Apples
This protein-packed recipe uses apples, hummus, avocado and canned tuna to take your lunch to a whole new level of flavor. And the best part? It only takes 5 minutes to make, so go ahead and snag this recipe.
Pumpkin Spice Pancakes
A life without pancakes would be dark indeed, fortunately, giving up gluten doesn't mean giving up these fluffy bites of heaven. And, as if you need another reason to give these a try (I mean… pumpkin? spice? pancakes? why aren't you in the kitchen already?) these bad boys are also free of refined sugar relying on just a hint of natural maple syrup. Make a fun time of prepping these by getting the kids to join in.
Honey – Mustard Green Bean Potato Salad
The dressing for this is tangy, lightly sweet and the perfect accompaniment to the potatoes and beans. For best results let it sit to get all these fresh flavors to really mingle.
What do you think of our roundup? Let me know by leaving a comment in the section below.