New to Meal Prepping?
Grab a copy of our FREE Meal Prep Planner to help you get started!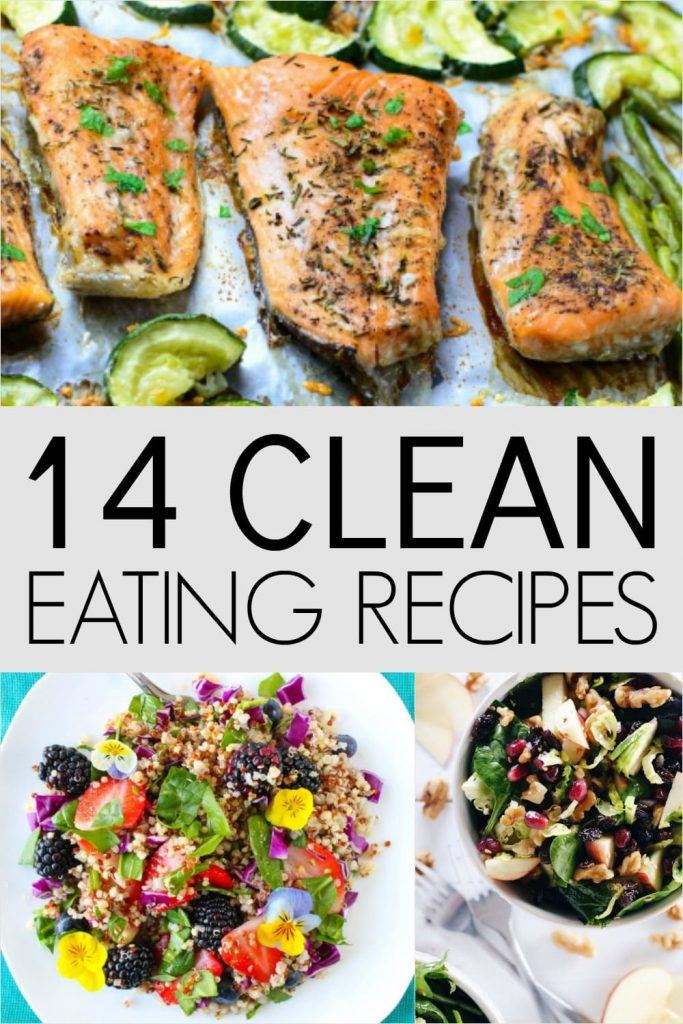 Clean Eating is a mandate of healthy living. Unfortunately, it seems that "clean eating" and "healthy" are synonymous with bland and flavorless in some people's minds. But we want to change that! There are so many amazing meals, many perfect for meal prep that are full of flavor and created to nurture your body while being savored by your taste buds.
Not quite convinced?
Let's start with a few recipes to get you in the groove of meal prepping. Alternatively, you already have this meal-prepping thing in check and are only looking for a few recipes to add to your stash.
Either way, here are 14 meal prep recipes that will have you believing in the power of healthy, delicious meals.
New to meal prepping? Be sure to check out our beginner's guide and our review of the best meal prep containers.
Simple Roasted Chicken Breasts
Although chicken breasts often have a reputation for being a bit dry, this one will have you singing the praises of one of our favorite go to proteins. Make a big batch of this flavorful (and super easy) chicken and use it as a meal prep starter for all your meal prep meals throughout the week. You will be amazed at how much easier it makes your life.
Beef and Mushroom Sauté
Don't let a busy day deter you from a healthy last minute dinner option. Prepare this easy recipe in half an hour, or reduce the time even more by prepping it ahead of time. Brown rice can easily be made ahead of time and used in this recipe and many others throughout the week.
Baked Cajun Chicken
Baked chicken is the perfect option for a healthy lunch or dinner, and this recipe switches it up with a punch of spice and flavor. Another one to keep on hand for your favorite meal prep recipes.
Slow Cooker Chicken and Sweet Potatoes
It doesn't get any easier than prepping a meal and then letting the crock pot do all the work. This recipe makes short work of your whole meal– conveniently prepped and cooked all in one pot. Seriously, it does not get any easier, or more delicious, in this case.
Balsamic Glazed Chicken Meal Prep
Balsamic vinegar just has a way of elevating every dish it touches. This meal prep recipe is not only a feast for the eyes, it will also have your coworkers drooling. Be sure to label your lunch bag to prevent this delectable and gorgeous lunch from walking off.
Sweet Lime Quinoa Fruit Salad
Blackberries are nutrient packed and full of fiber, not to mention they taste like summer and add a knockout punch of flavor to this meal prep which pairs them with chopped spinach and quinoa for a summery salad that will leave you satisfied but not stuffed. Make the sweet and tangy dressing ahead of time and pour on when your ready to feast.
Apple Walnut Spinach Salad
There's no going wrong with a salad, especially a salad that has loads of crazy healthy leafy greens, crisp, tart fresh fruits and heart healthy walnuts like this one. Check out the recipe here.
One Pan Salmon and Veggies
One pan, one clean up and plenty of protein and veggies. Pile up enough protein and veggies for several days and add roasted veggies or salmon (or try other proteins) to your salads, sandwiches and snacks all week long. Who doesn't love one-pan meal preps that will keep you full and your taste buds engaged all week long? Try this meat and veggie prep this week!
Pork Lettuce Wraps
This low carb and simple recipe puts a flavorful spin on pork reminiscent of your favorite Chinese restaurant without the MSG or the bloat. It also works great as a meal prep for lunches or dinner- yum!
Vegetable Curry Quinoa Bowls
Quinoa, the darling of the nutrition world (for good reason: hello fiber and protein!), provides a unique and delicious twist to this vegetarian curry. Chickpeas lend fiber and protein while the veggies add nutrients, flavor and plenty of color. Make the quinoa ahead of time and nosh on it all week, and prepare the rest of the curry as a flavorful and unique meal prep for this week.
Blood Orange Vanilla Chia Pudding
Sure, it's high in fiber and packed with heart healthy fats and plenty of nutrients but you won't care about that once you take a bite of this decadent recipe that's perfect as a breakfast or a snack and a perfect addition to a healthy meal prep this week. Make snack time last a little longer with this recipe.
30 Minute Skinny Chicken Burrito Bowl
Better than you know who 😉 this burrito bowl puts a skinny twist on your favorite go to lunch. Prepped with your favorite ingredients and endlessly customize-able we are willing to bet this burrito bowl will make your meal prep rotation regularly!
Guacamole and Tuna Stuffed Avocado
You had me at avocado. But for those of you still feeling a little skeptical- this recipe uses avocado (a source of  heart healthy fats) in place of mayo, so you'll feel good about your meal and it adds cilantro and red onion for some serious oomph. This recipe brings together plenty of flavor and serious brain foods, tuna and avocado- yes, please!
Beet Hummus
This recipe is perfect for an appetizer or snack, paired with fresh veggies, or even as a salad topper. Try this lovely pink recipe to curb those in between meal cravings.