I love IKEA! They always have something/everything to inspire me. No, this isn't a sponsored post, I just really love IKEA 🙂 I not only want to live in some of the rooms they have set up and steal all the ideas, but what I really love about it is how budget friendly it is. No matter whether your budget is big or small, you can find something to wow you.
But! That's enough of my love letter to IKEA, not everyone feels the way I do or has access to a store. Fortunately, the interwebs is a great resource for people looking to borrow a few ideas that, while not IKEA, are certainly very IKEA-esque. A few brilliant ideas to help transform our homes using simple tricks and hacks that add pizzazz and/or functionality without breaking the bank.
So, without further ado, (and no more references to my favorite Swedish furniture store) let's go ahead and get this train started!
The Indoor Herb Garden Hack
Source: Curbly
Haven't got the outdoor space for a herb garden? Or perhaps you're craving a pinch of fresh basil in the middle of winter? Either way, we have got you covered. This indoor herb garden is the perfect solution to ensuring you always have an ample supply of your favorite herbs – it's cute, practical and a great way to add fresh flavor (and don't forget the antioxidants) of herbs. Even if you have the space for an outdoor garden you might want to grab this anyway, it not only adds a pop of color, it also adds a fresh scent to your kitchen.
The Portable Marble Island
Source: 4men1lady
Give your kitchen a modern feel by replacing that boring butcher block type island with this gorgeous, practical contemporary marble top finished island.
The Double Duty Kitchen Island Hack
Source: Latest Kitchen Design
If you're short on a space in the kitchen, you can always get your islands to pull double duty. Getting an island with lots of storage options is one of the best decisions you will ever make.
Alternatively, I found one on Amazon you will easily fall in love with.
The Vurm Wall Mount Wine Rack Hack
Source: Ikea Hackers
Boring walls are no longer allowed and neither is hiding your best wine collection. Why not kill two birds with one stone by going with this chic wall mount wine rack. And it doubles as a conversation starter, so rest assured knowing your dinner parties will never lack conversation when this beauty is in the room.
The Floating Spice Rack Hack
Source: Hzme Show
If you're displaying wine you might as well go all the way and display all your spices and condiments as well and what better way than a gorgeous floating spice rack.
The Bookshelf Pantry Hack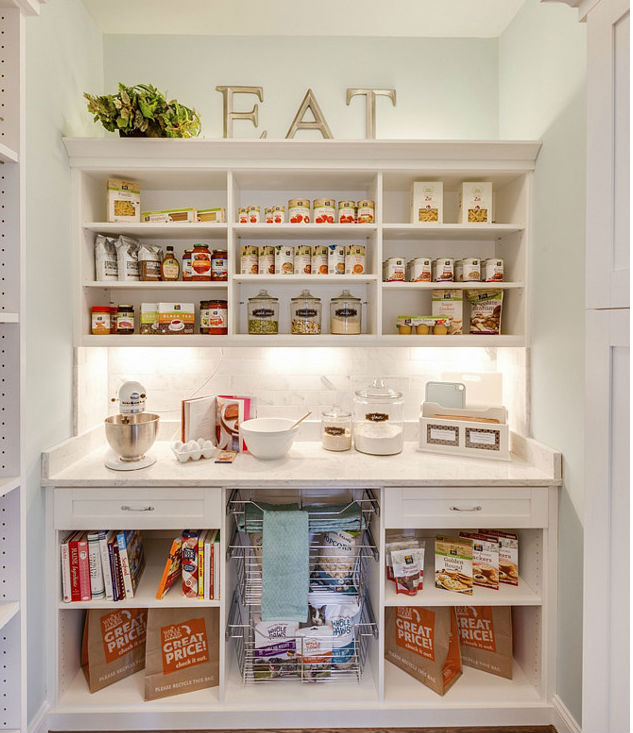 Source: Home Bunch
This is one of those so simple and yet so brilliant ideas that leaves you smacking your head and wondering why you didn't think of it (no, that was just me?). Using a book case as a pantry is simple, elegant and it keeps everything out in the open, assuring that nothing will go missing again (and it all but forces you to be organized). If you're tight on space, here's a slimmer option.
The Slide Out Pantry Hack
Source: Artflyz
I'm all for space saving pantry options and this idea right here, fits the bill perfectly.
The Bar Cart Storage Hack
Source: Nikoo's Photos
For those of us who are trying to make due with a less than ideal cabinet situation (i.e. an almost complete lack of them in my current situation) or if you just need extra cabinet space, the bar cart hack is a great way to solve all your cabinet problems.
Lots of different options for these carts. Check out some more here.
The Utensil Rail Hack
Source: Measuring Flower
The space above your stove can comfortably accommodate a utensil rack which keeps everything organized and within easy reach. Yes, please!
The Kitchen Island Bar Stool Hack
Source: Maison & Cupcake
Bar stools make all the difference in your kitchen by giving your kiddos a place to perch or providing friends and family a seat to plop down while (ideally) helping you cook or (more realistically) sipping a glass of wine while you put the finishing touches on a meal or snack.
The Open Kitchen Shelves Hack
Source: Houzz
Looking for a way to display your fancy dishes and save space? Give your kitchen a professional touch by putting up these open kitchen shelves; they make great storage places for heirloom pieces or other items you want to show off AND keep handy.
The Utensil Drawer Organizer Hack
Source: Inhabitat
If you'd rather not hang your utensils or store your cutlery topside, you can have them well organized in a drawer.
The Bekvam Step Stool Hack
Source: The Interior Diyer
I've always thought step stools are very handy to have around especially if you, like me, are… ahem… vertically challenged but you've still got really high kitchen shelves. Seeing as I'm always on the lookout for pieces that can pull double duty, I found you this great dual purpose step stool.
The Free Standing Stainless Steel Shelves Hack
Source: Health – ES
Free standing stainless steel shelves are great organizational tools but place them in your kitchen and suddenly you have a lot less clutter.
Did any of these IKEA hacks/ideas pique your interest? Let me know by leaving a comment below.